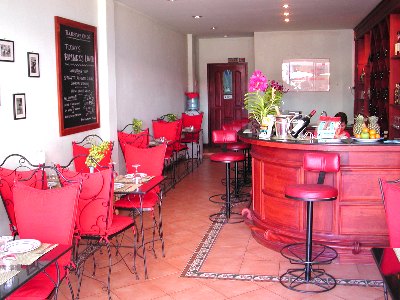 "Here's the Art of the Café des Arts!" we like to say, pointing with a vast gesture all over the place, if somebody questions the name of the "Art café". The art is the sober, yet elegant ambience where delicate wrought iron chairs with bright red pillows contrast the vast and heavy wooden bar. The art is in your plate when our chefs create your meal from fresh, carefully selected ingredients. The art is the right wine poured into a graceful and stylish glass, a shot of Grappa out of an ice-covered bottle or en elegantly decorated cocktail served at our bar. The art is the attention that our waitresses and waiters will give you with a sincere smile.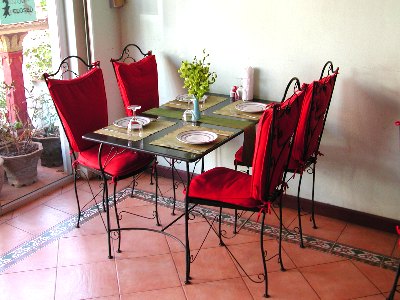 Coming to the Café des Arts, you will most certainly be personally welcomed by the owner couple, Peter and Ouy. They have created this new venue in Laos' capital completely from scratch, starting with choosing the small, cozy premises in "Downtown Vientiane", to designing all the interior layout and decoration, up to the selection of fine, high quality food and drinks on offer. Peter, a Swiss citizen, with a master degree in economics, likes to mention his long experience in the hospitality sector. Ask him why
Speaking fluently English, French, Italian and German, you might most probably talk with him in your mother tongue. His Laotian wife Ouy is adding the female touch to everything and of course steps in for the native Lao or Thai speakers. As Human Resources Manager she is also responsible that our personnel is more like a family than just "staff". Our chefs finally, Johnny and Tulu, with a long experience in preparing Italian food - having been trained directly by genuine Italian chefs - and support the philosophy of the Café des Arts, to only use fresh ingredients and produce whatever possible themselves, such as our home-made pasta, bread, etc.

So when can we show you the "art" at Café des Arts?"